We have known many talented people who started leadership coaching and training companies, they spent decades running their businesses only to earn as much as if they'd simply gotten a job.
Yet they worked many times harder than any employee, took on significant amounts of risk and stress, and gave up untold weekends, holidays, and family time, all for which they earned no compensation beyond the wages they paid themselves. Others, meanwhile, earn millions in profit over their careers.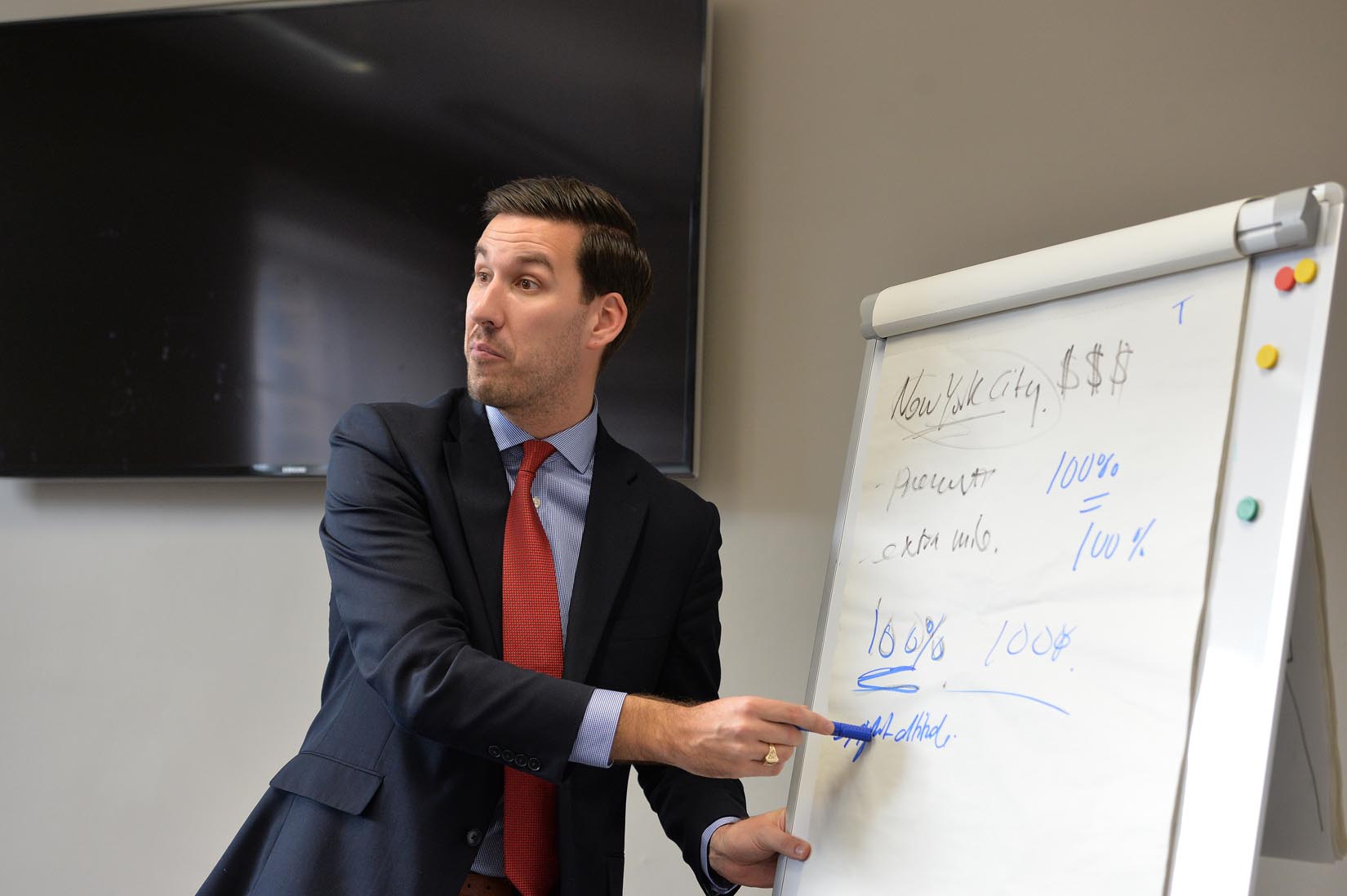 "It has been an extraordinary journey that has afforded me opportunities I could have only dreamed to experience. Being part of Quarterdeck's success and continued growth is something I'll hold close to my heart. Most of all it has been about the people connected to Quarterdeck. Words can not express the gratitude I have for Laura and Kris for the opportunities they provided me and my family. On a daily basis, they supported me to become better, push boundaries and truly love what I do. It is because of them that I could have ever called myself a success." - Alan Aucoin
The market is awash with leadership coaches and trainers who started their own business and are finding it's not all they hoped. They're not making as much money as they want, or getting new clients feels like a never-ending treadmill to nowhere. We've solved these problems so you don't have to.
Our aim for our licensees is to help them:
Create an impact for clients
Have immense job satisfaction
Earn an excellent income
Have a great work life balance
We do this by creating a first-class product that clients love and gets them great results, plus operational excellence in marketing, design, and technology.
Our business and process is ultimately very simple but that allows us to deliver great quality.
As a licensee you'll have the opportunity to take advantage of our past hard work in developing systems, processes and documents.
These will allow you to hit the ground running.
We believe in partnership, we'll run your region together. We'll give you the hard earned secrets we've learnt and the processes and systems we've developed over the years, all the boring and hard business stuff like finding new clients. Plus you get to keep the lion's share of the revenue.
Make a difference in people's lives
Make an impact on executives in your city's business community with a first-class product. Delegates of our training programme constantly tell us we've changed their lives.
Train and coach business leaders, enabling them to grow their business and achieve their goals.
Work with business executives in inspiring surroundings, we run all our courses in luxury hotels.
Helping guide your community's business leaders is meaningful, purpose-filled work. Whether you're directly involved in the training or not.
Use the Quarterdeck System to help business leaders reach their full potential and achieve success in ways they can't accomplish alone.
The Quarterdeck System includes a unique leadership development product that actually gets results. Clients keep telling us it's life-changing. The vast majority of people rate it 10/10.
Your impact creates a ripple effect felt from the executive level through company ranks, and into your community. It's meaningful, financially rewarding work.
Be part of something truly rewarding and impactful. And get compensated accordingly.
The Quarterdeck programme has provided more value to us than the £40,000 Harvard Leadership Programme that we did previously. It's simply fantastic.
Earn the Money You Deserve
It's often tough to get paid what you're worth. Whether you're working for someone else or yourself.
We've developed Quarterdeck to be a low cost, high price, and therefore high margin business.
With our proven business model you can earn a well above average income and maintain a flexible schedule.
It's your business so you decide how much time to devote to it and what level of income suits your needs. Run a lean business in a small territory or a large team in a bigger area, it's your choice.
What's more, as you build your Quarterdeck Region you are building an asset that you can then sell when you are ready to retire or pursue another venture.
A Growing Market
The market for leadership development is very large and getting bigger. It's also very fragmented with lots of solo consultants and small companies serving the market. Now is a great opportunity to join us as we build a market leading national (and maybe even global) brand.
Highlights of a report from Future Market Insights (FMI)
https://www.futuremarketinsights.com/reports/leadership-development-program-market
Leadership Development Programme Outlook (2022-2032)
The global leadership development programme market size reached £52 billion in 2021. The sales of leadership development programmes are estimated to reach £149 billion by the end of 2032.
2017-2021 Leadership Development Programme Market Outlook in Comparison to 2022-2032 Growth Forecast
Leadership development programmes are gaining huge popularity across sectors. This is estimated to assist the leadership development programme market to expand at a compound annual growth rate (CAGR) of 10.3% over the forecast period 2022-2032, in comparison to the 5.7% CAGR registered between 2017 and 2021.
Why is the U.K. Leadership Development Programme Market Projecting Rapid Growth?
"Growing Adoption of Leadership Development Programme by Corporate Companies to Accelerate the Sales in the U.K. Market"
The U.K. is estimated to account for a significant share in the global leadership development programme market between 2022 and 2032.
Due to the increasing complexity in the corporate world & businesses in Europe, growing spending on skills development and leadership training activities is likely to continue during the projection period in the U.K.
The Quarterdeck System
A Quarterdeck Business is simple. The core of the Quarterdeck System has one marketing and sales channel and one product. This means a licensee can quickly learn and implement the System.
Our marketing consists of offering free leadership seminars in a given area. The aim is to impress attendees and demonstrate our expertise. This then leads to sales for our paid programme.
Our programme is based on time tested leadership principles. We use "How to Win Friends and Influence People", and "The 7 Habits of Highly Effective People" as course texts. Detailed information about the programme is available on our website.
We've developed an automated lead generation system that will fill up your marketing seminars so you don't have to worry about scrabbling around for clients. We struggled for years trying to find clients reliably. We tried everything: networking, employing sales people, cold calling, email drip sequences, social media, marketing agencies. You name it we tried it, and none of it worked.
Eventually we developed a system that reliably and regularly delivers qualified leads to us every single day.
Each of our promotional events has an average of 40 people booked on them. That's 40 leads per event that just get dropped into your lap.
I attended a marketing seminar from a very similar license recently and I was the only one there. We'd never let that happen to our licensees. Your business is our business. We only succeed when you succeed.
When it comes to delivering the programme you can choose to do as little or as much of the delivery as you wish. If you have experience as a trainer then you're free to deliver courses yourself or you can make use of the wide community of associate trainers available in the UK leaving you to take care of the business.
Because it's your business you can achieve the work:life balance you want. You can build a six-figure revenue whilst building equity in your business. Perhaps the nicest business choice you'll ever have to make will happen when you have your own profitable Quarterdeck Region which can work without you. Will you keep your income or will you sell your asset? There's only one licence available per territory and you own it, so either way, you can expect to make a desirable return on your investment.
Flexibility
You're in charge of your region so you can run it how you want, build a big team with a nice office or run a lean operation. The way we've built Quarterdeck is an inherently low cost, and low hassle, way of running a training business.
Low cost. A new Quarterdeck region has low setup costs and low running costs. There's no need to have an office or permanent staff if you don't want.
High profit margin. Our programme is a premium priced one, add this to the low running costs and that means high profit margins of about 80%.
No office required. All our courses are run out of hotels so there's no need for an office, however if you want to build a massive training centre you can do that as well.
No staff required. You can run the courses yourself or use associate trainers on a contract basis.
No bad debts. Because of the type of clients we deal with we never have problem customers or late payments.
Free summers and Christmas. These are traditionally very quiet times in our business so you can take some quality time off to recharge.
Support
We're invested in your success. The only way we can succeed is if you succeed. We make sure your goals and aspirations are as important to us as they are to you.
Running a Quarterdeck Business gives you the best of both worlds: be an entrepreneur with the support of a big company. You'll be running your business, but not alone. You get the backing of expert staff dedicated to the successful launch and longevity of your business, every step of the way we'll be by your side. Think of it as being an entrepreneur with an infrastructure. We are committed to working with you from the outset to make a success of your business.
You're in business for yourself, not by yourself.
Choosing a Quarterdeck license gives you the confidence of working with an established leader in the industry who has created the systems, materials and processes to make your business easy and efficient.
It's like running your own business but with the support of a much larger company.
Automated marketing. We'll deliver dozens of qualified leads to you every month, no more scrabbling around for your next client.
Design & Branding. We have a trademarked, world class brand and make sure all our materials are top quality and beautiful.
Strategy. Our leadership team has a wide range of experience from working in the Police, Oxford University, international advertising agencies, and large UK business like the BBC, Vodafone, and Ocado. Think of them as your board of directors or mentors. We're always here to help you.
Technology. We make use of cutting edge technology to support our business and Regions.
You'll be working with a family business not a giant corporate licensing machine. Even though we operate with the experience, strategy and operational ability of large businesses we are still a family business. There will only ever be about 50 Regional Directors in the UK so you will never feel like an anonymous cog in a machine.
Training
First you will experience Quarterdeck exactly as a client would so you know the entire customer journey and how they will feel at each point along it.
The Customer Journey
Attend one of our half-day leadership seminars
Experience a follow-up sales conversation as a client
Attend the full course as a participant
Once you are familiar with Quarterdeck from the client side you will shadow us as we deliver the experience from behind the scenes. You will see everything it takes to deliver an outstanding service.
See Behind the Scenes
See how we generate bookings for our free leadership seminars
Help run one of our leadership seminars
Attend several real sales meetings to see how we persuade people to join a course
Help run a full programme as an assistant to the main instructor
Your instructors (whether you or your team) will receive further training on delivering our programme to high standards. They will attend the programme as a participant, assist, run as co-pilot and eventually run their own programme.
When you region is launched we'll work with you side by side to get you going.
Operational Documentation
You will receive the following documentation helping you to run your Quarterdeck Region.
Operations manual. Simple step-by-step instructions for every process required to run your business.
Checklists. For every repeatable process in the Operations Manual we provide checklists to make sure everything is done properly by you or your team.
Instructor manuals. For our free marketing seminar and leadership programme. These can be given to an experienced trainer in order to deliver the programmes.
Training materials. We have the most beautifully designed training materials and manuals in the industry. Even for our free events we provide top quality materials creating a great impression.
Sales Collateral & Templates. We have beautifully designed brochures, proposals, case studies, testimonials and everything you need to look amazing to potential clients.
Sales guide. Sales is understandably one of the most difficult parts of any business. But we have a proven, low pressure sales technique that maximises conversions. You don't have to be a slick salesperson to make sales. In fact it's better if you're not, it doesn't really work.
Ongoing Support
Whatever stage you are at as a licensee, whether brand new or an experienced old-hand, we will be by your side to help you out. We'll be available by phone, email, video, text, and in-person to provide you ongoing support.
Finances
Of course one of the most important aspects of any business is the finances. Here we will give you an overview of what you can expect as a Quarterdeck licensee. As always if you have any questions just let us know.
The Quarterdeck System has the benefit of being a low startup cost, low running cost, and high margin business.
There's no requirement to have an office or any permanent staff. Because all our client interactions happen in hotels or on-site with clients there's no need for an expensive office. You can also operate totally with subcontractors, ramping up and down your costs as needed. Of course you can also run a massive office with a big team if that floats your boat.
Here are some of the figures associated with running a Quarterdeck Region that you'll probably want to know. Of course you can scale this up as much as you want.
Our course list price is £3,040 + VAT.
You should have between 8-12 people per course.
You should run a minimum of 4 courses per year.
A top quality associate trainer should cost you about £450 per half day.
Running costs for each marketing event will be about £750 + VAT.
You should run a minimum of 6 marketing events per year.
Our pilot region has made on average £241,000 revenue per year.
You get to keep 85% of your region's revenue. You share 15% of revenue with us for corporate support like marketing and operational support.